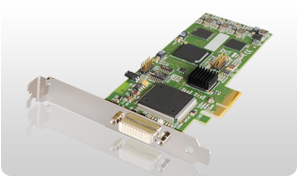 XV-RGB-E1s HDMI/DVI/VGA Low Profile Capture card
Regular price $1,632.00 Sale
1 x HDMI/DVI/VGA input, PCIe low profile capture card
FEATURES
HD 1080p
HDMI 1080p
DVI 1920x1200
RGB 2048 x 1536
The XV-RGB-E1S has  a single capture channel supporting 1920 x 1080, 1920 x 1200 DVI and 2048 x 1536 analog resolution.

The XV-RGB-E1S captures the analog / DVI data at full frame rates and triple buffers it onto on-board storage . This data is then copied using DMA to the host system for display, storage or streaming.

When used in combination with the XV-IMG4 graphics display output cards, the XV-RGB-E1S transfers data directly to the graphics card thereby increasing performance. The XV-RGB-E1S sends the relevant portions of each captured image to each display channel and instructs each channel to use its graphics engine to render the data on screen. This fully utilises the hardware and dramatically increases performance.

The XV-RGB-E1S can be used as a standalone capture device or it can be used as one of the input modules within a X-VIEW DPXe Video Wall processor system.

The XV-RGB-E1S comes with a low profile and full height bracket which allows the card to be installed in compact computer system frames.

X-VIEW unified driver enables the card to be used by other applications as a capture device and capture driver for DirectShow is provided.

The XV-RGB-E1S is an ideal solution for applications that require the capture of analog or DVI sources in real time.
Typical applications include:
• VGA / DVI sources from PC's or Mac's
• Industrial automation system displays
• Medical equipment
• DVI/HDMI Video (HDCP/Audio not supported)
• Streaming video applications • Video and Data Wall Controllers
• Video Conferencing system captures

When the RGB/DVI data is displayed on a non X-VIEW graphics card, the XV-RGB-E1S sends the data to system memory or direct to the graphics card, dependant on the software used for display.

For streaming applications the XV-RGB-E1S can be used with Windows Media Encoder to compress and stream captured video. To replay the video, use Windows Media Player.
Any application compatible with Windows DirectShow technology can use the XV-RGB-E1S due to its built-in WDM support.

The X-VIEW Vision software is supplied with standalone cards to allow automatic detection and display of input to the desktop.
On the fence about this XV-RGB-E1s HDMI/DVI/VGA Low Profile Capture card? Don't be. Let our satisfaction guarantee address your concerns.

Inventory Last Updated: Sep 30, 2023