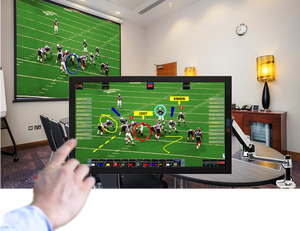 Point-HD Telestrator for Windows PC
Regular price $944.00 Sale
e-mediavision Point-HD Trainer Telestrator Software and license key for installation onto Windows computers, laptops & tablets. Supports Windows 7, 8 & 10.
Recommended NVIDIA Graphics card and Intel CPU for best performance.
Upon payment, you will receive an email from us with instructions on how to download and install the software.

After you have installed the software, click on the button marked "Enter Key" when Point-HD Trainer is launched and email us back the Hardware Fingerprint number.

We will then email you an activation code so that you can enter the activation key code to fully activate the product.
Note: all specifications are subject to change without notice.
The Point-HD Telestrator for Windows PC is evocative, to say the least, but that's why you're drawn to it in the first place.

Inventory Last Updated: Dec 08, 2023